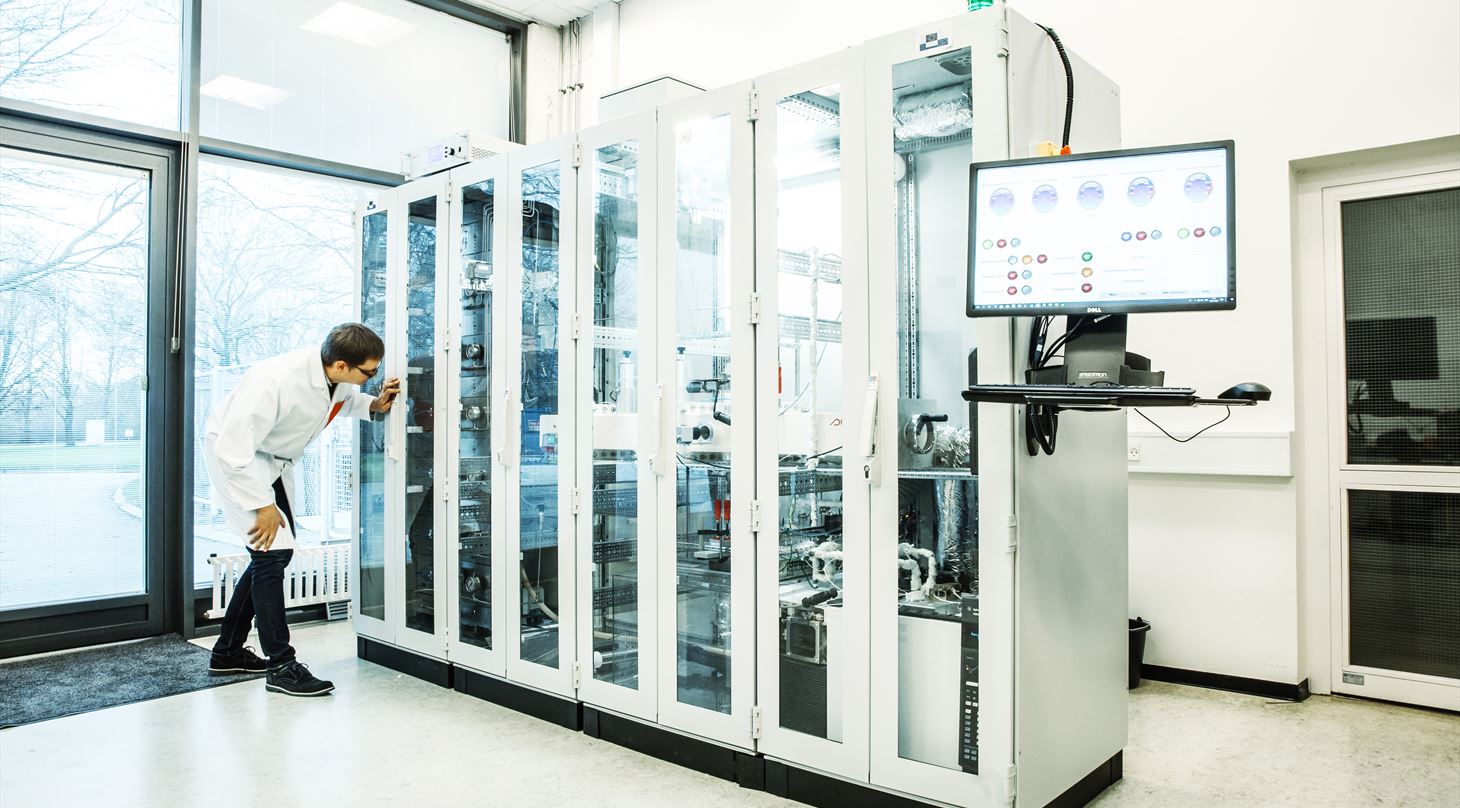 Advanced digital printing of electronics - Rapid development and pilot production of nanomaterials
Nanomaterials are the foundation of printed electronics
The building blocks of any electronic circuit or sensor system are the materials. Nanomaterials increase electrical performance and add novel functionalities compared to already existing print processes, which are typically based on silver microflake materials. Furthermore, there is a push towards more sustainable and cost-effective materials. For these reasons, there is a clear need for rapid development as well as upscaling production of novel nanomaterials.

Our service offerings.
Rapid development services:

Danish Technological Institute can perform rapid development by combining artificial intelligence for Design of Experiments (DoE) and a fully automated small-scale flow and batch reactor technology. This combination both minimizes raw material usage and reduces development time to under three months.

Image: Semi-automated small scale supercritical flow reactor for nanomaterial development.

Pilot production services:

Once we have developed a particular nanomaterial, a challenge is to up-scale production to meet industrial demands. DTI has designed and built large scale solvothermal flow and batch reactor technologies, which can be tailored for a particular nanomaterial. The reactor technologies can be either semi or fully automated and can use on-line monitoring sensors with temperature, pressure, pH and even x-ray fluorescence technologies.

Image: Fully automated 80L batch reactor for production on nano copper, with on-line temperature and pH monitoring. Production up to 10kg nano copper per batch.

Nanomaterial characterization services:

As part of the development and production services, DTI has a state-of-the-art characterization laboratory, with the following instrumentation:

Powder X-ray diffraction
Electronic microscopy, SEM, STEM, EDX and FIB/SEM
BET and mercury intrusion
TGA
Examples of Nanomaterials
These materials are available for purchase. Please click on the images to download datasheet and more information.

Ag nanoparticles

Diameter 50-100 nm

Cu nanoparticles

Diameter 80 nm, 150 nm or 1 µm

Ag nanowires

Diameter 20-30 nm, length 10 µm

Diameter 150-200 nm, length 50 µm

Ni nanoparticles

Diameter 200-300 nm

BaTiO3 nanoparticles

Diameter 100-200 nm

Ag, Pt or Pt alloys on carbon support

Diameter Pt 1-5 nm

Diameter Ag 50 nm
Ag nanowires:
Ag nanoparticles:
Cu nanoparticles:
Ni nanoparticles:
BaTiO3 nanoparticles:
Contact us for more information
If you would like to know more about printed electronics or have an idea of how printed electronics can add value to your products or ideas, please contact Zachary J. Davis at +4572202507 or e-mail: zjd@teknologisk.dk.

We can also assist with procurement of project funding through Innovation Fund Denmark, Horizon Europe and other funding sources.