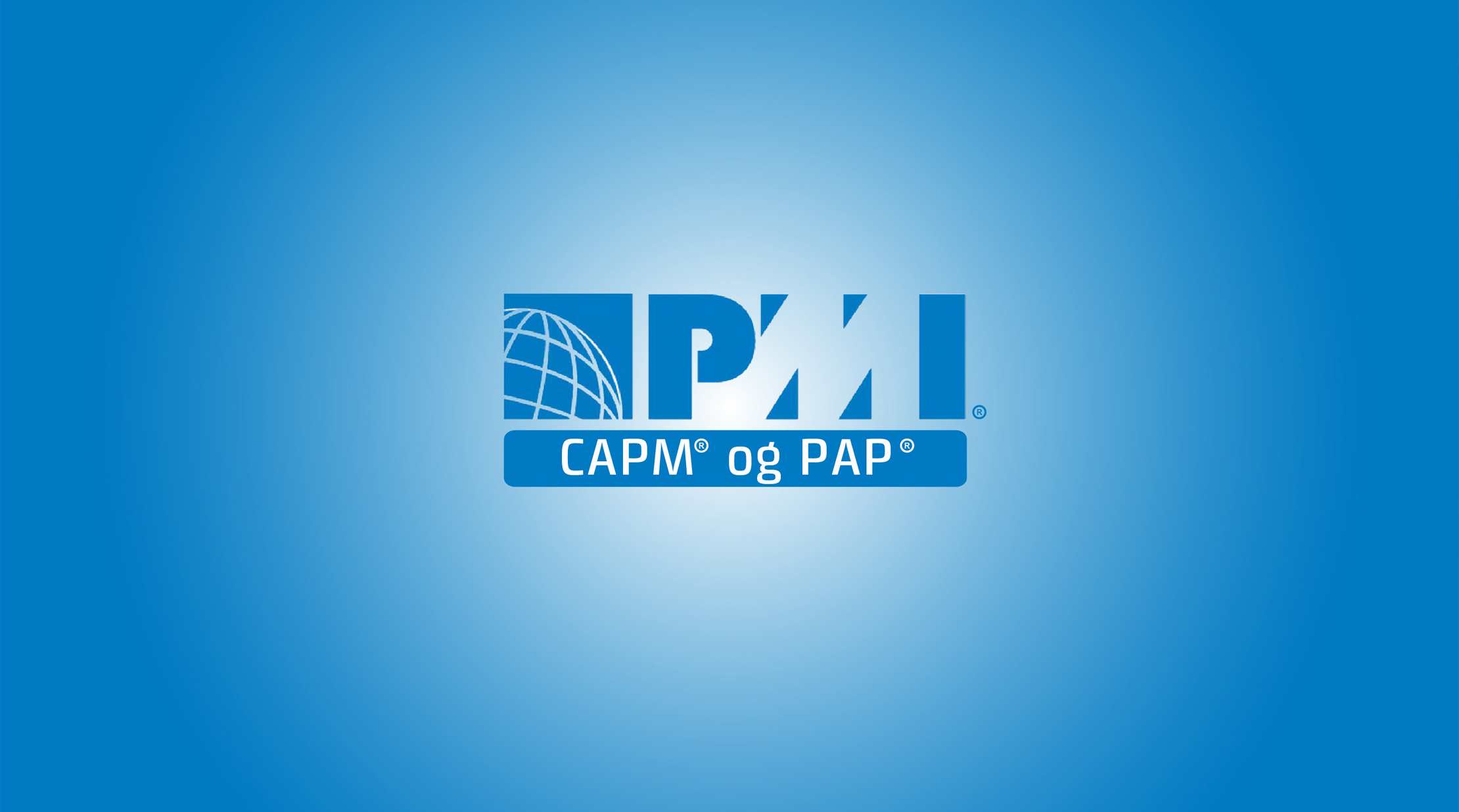 Online kursus: Project Management Professional (PMP®)
Professionel projektledelse kræver indsigt i alle de elementer, der har indflydelse på et projekts succes. Denne kursuspakke introducerer dig til PMI's® projektledelsesstandarder og forbereder dig til hhv. PMP® og CAPM® certificeringseksamen. Kurserne er på engelsk og foregår online, når det passer dig. Du har adgang til online kursuspakken i 365 dage.

Become a professional project manager
Do the right thing, but make sure you do it on time, under budget, and within scope, all the while maintaining your professional integrity in a constantly evolving global business environment. This requires a professional project manager. Even though every project is unique, they all have certain attributes in common. In this course package, you will find 33 courses that covers all the different aspects of managing project professionally according to PMI® standards. From ethical issues, project life cycle, project management plan to identifying, engaging and communicating with stakeholders and dealing with costs, changes and uncertainty.
The course package provides a foundational knowledge base reflecting the most up-to-date project management information so you can effectively put principles to work at your own organization. Through interactive learning strategies and realistic scenarios, you will gain a better understanding of the tools and principles.
Video
Target audience
Existing project managers wishing to be certified in recognition of their skills and experience, or others who wish to train to become accredited project managers.
Benefits
Identify the values described in the PMI® Code of Ethics and Professional Conduct
Plan an appropriate approach to project communications management
Perform a stakeholder analysis for a project
Recognize the characteristics of the project life cycle
Distinguish between monitoring activities and controlling activities
Analyze how your project will benefit the organization and bring value to stakeholders
Recognize how to organize a work breakdown structure
Perform analogous estimating, parametric estimating, and three-point estimates
Get an overview of estimating and budgeting project costs
Monitor cost performance through earned value management, forecasting, and reserve analysis
Recognize aspects of managing project quality
Learn tools and techniques for quality audits and process analysis
Learn about tools for quality improvement, such as Lean, Six Sigma and Kanban
Plan risk management, identify and analyze risks
Identify the tools and techniques used to manage procurement
Collection content
The Role of Ethics in Project Management
Core PMI® Values and Ethical Standards
Plan and Manage Project Communications
Control Project Communications
Project Stakeholder Management
Managing and Controlling Stakeholder Engagement
Managing Projects within Organizations
Project Management Overview
Project Management Process Groups
Integrated Initiation and Planning
Direct, Monitor, and Control Project Work
Controlling Changes and Closing a Project
Capturing, Analyzing, and Managing Lessons Learned
Strategic Alignment and Benefits Realization
Project Requirements and Defining Scope
Creating the Work Breakdown Structure
Monitoring and Controlling Project Scope
Defining and Sequencing Project Activities
Estimating Activity Resources and Durations
Developing and Controlling the Project Schedule
Planning Project Costs
Controlling Project Costs
Plan Quality Management
Quality Assurance and Quality Control
Quality Management for Continuous Improvement
Planning Project Human Resources
Managing Project Human Resources
Risk Management Planning
Identifying Project Risks
Performing Risk Analysis
Risk Response and Control
Planning Project Procurement Management
Managing Procurements
Extra preparation
Mentoring Project Management Professional
Mentoring Certified Associate in Project Management
TestPrep Certified Associate in Project Management
TestPrep Project Management Professional
Tidsforbrug
Kursuspakken består af 33 kurser, hvor hvert kursus gennemsnitligt varer to timer. Hele kursuspakken kan således gennemføres på ca. 66 timer.
Certificering
Denne kursuspakke kan give dig kompetencer, der forbereder dig til at tage PMI® certiceringerne Project Management Professional (PMP®) & Certified Associate in Project Management (CAPM®). Eksamen bestilles og betales særskilt. Kurserne følger A Guide to the Project Management Body of Knowledge (PMBOK® Guide) – Fifth Edition, published by PMI®, Inc., 2013. Copyright and all rights reserved. Materiale fra denne fra denne publication er benyttet med tilladdelse fra PMI®. PMBOK, PMI, PMP, CAPM, and PMI-ACP are trademarks of the Project Management Institute, Inc.
Form
Denne online kursuspakke består af flere forskellige kurser, som du ved tilmelding har adgang til i 365 dage. Hvert enkelt kursus er opdelt i flere kursusmoduler, som du via en oversigtsmenu kan tage i den rækkefølge, du ønsker. Modulerne indeholder lyd, billeder og tekst, der gennemgår kursusindholdet. Nogle moduler indeholder små videofilm med scenarier og cases. Ved hvert kursus har du mulighed for at teste din forståelse af indholdet med tests, som du kan tage både før, under og efter kurset. Du gennemfører kursusmodulerne via din computer eller tablet med lyd og adgang til Internettet. Du kan selv styre, hvornår du vil tage modulerne – og de kan sættes på pause undervejs. Der bliver indsat bogmærker, der hvor du er nået til, så du altid har mulighed for at fortsætte, hvor du sidst kom til.
Læs mere om vores online kurser og se svar på dine spørgsmål (FAQ)
Søgte du et andet online kursus?
Vi tilbyder over 7.000 forskellige online kurser inden for mange forskellige områder. Kontakt os på tlf. 72203000 eller kurser@teknologisk.dk, så vi kan hjælpe med at imødekomme dit behov.
Se desuden listen over vores udvalgte online kurser.
Køb online kurser til flere
Er I en afdeling, en hel virksomhed eller blot flere personer, der ønsker adgang til online kurser, så kontakt os og få et tilbud på tlf. 72203000 eller kurser@teknologisk.dk