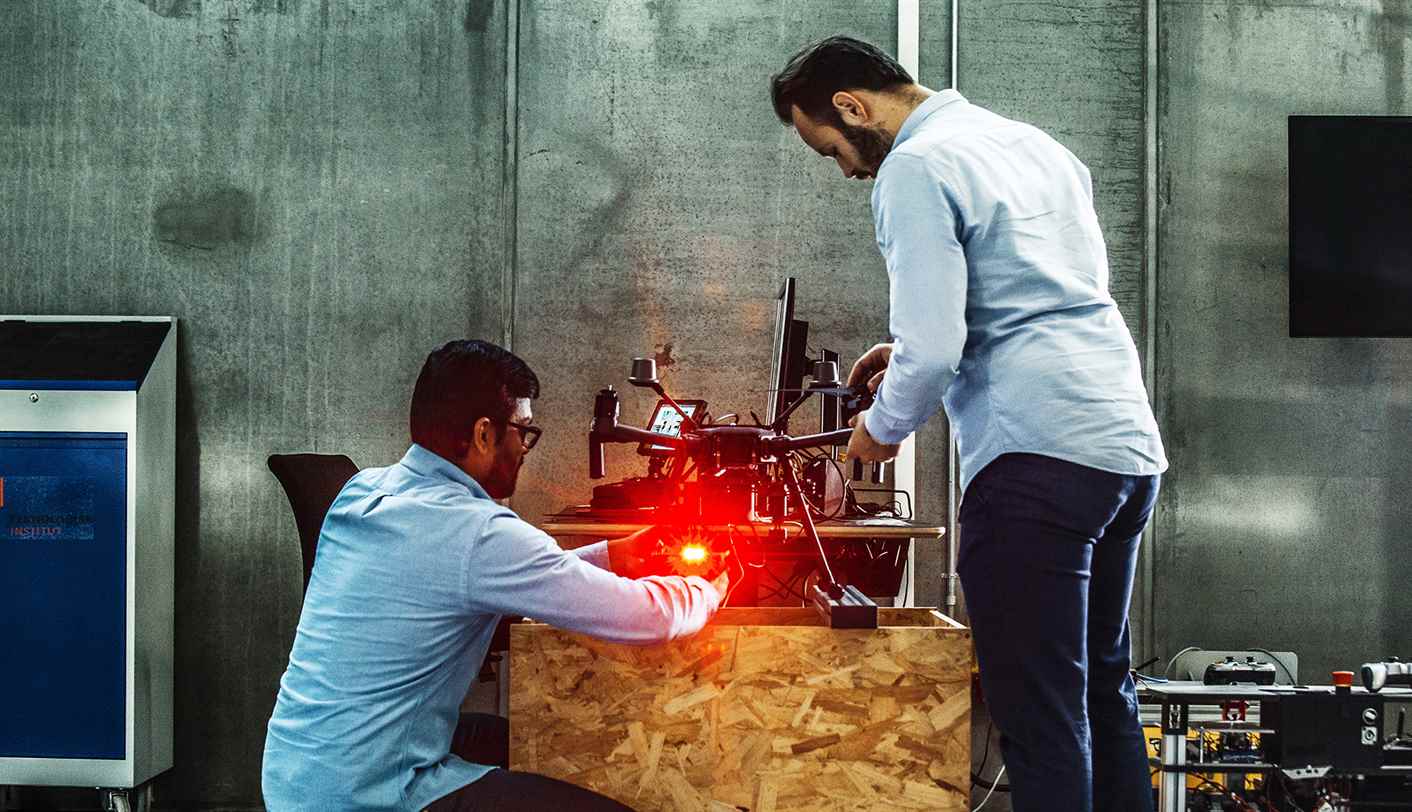 Safety first! Safer robots for a safer world
Robotics Safety Webinar with focus on cobots, mobile robots and drones.
Welcome to the Robotics Safety Webinar where you will receive knowledge and insights on recent developments in safety from academia and the industry.

The first part of the webinar contains presentations from companies and knowledge institutions on safety topics related to:
Safety standardization as a tool to influence safety requirements
Legal aspects of cobot safety
Safety beyond the laser scanner
What is COVR and why the work is relevant for our company
Afterwards, we split into two tracks: Industry or drones. Both companies and knowledge institutions will present the newest knowledge from topics such as safety in wireless communication, safely flying unsafe drones over populated areas, safety of the mobile robot arm, and more.

Lastly, we will jointly hear our keynote speaker, Ewen Denney from NASA Ames, give a presentation on Tool support for automation in assurance case development.

The event is arranged by The Danish Technological Institute (DTI), DTU Compute, The Southern University of Denmark (SDU) and Aalborg University (AAU) - in the context of RoboCluster. All presentations will be conducted in English.

A strong soup cube of robotics safety knowledge
The Danish Technological Institute is through projects such as COVR, SafeCOP, and KUGLE involved in a variety of cutting edge safety projects in industry and academia.

SDU has through projects such as HealthDrone, TeamPlay, SAFE, and FreeD and consultancy on SORA (specific operations risk assessment) a thorough understanding of what it takes to fly drones BVLOS (beyond visual line of sight) – both from a legal and technical point of view.

DTU Compute has through SafeCOP built a strong portfolio of tools for systematic handling of robot safety.

AAU has strong interdisciplinary knowledge on safety in both industrial and professional service systems.

It is this vast body of work on safety accumulated over the last years we would like to condense in to one single Robotics Safety Webinar.

Conference schedule
12:30-12:40 Welcome by Aske Lassen, DTI
12:40-13:00 Standardization as a tool to influence tomorrow's safety requirements by Ditte Klint Heede, Danish Standard
13:00-13:20 Safety beyond the laser scanner by Tommy Ertbølle, Agro Intelligence
13:20-13:40 Legal risk assessment by Robert Jønsson, Synch Law
13:40-14:00 What is COVR? by Aske Lassen, DTI


Track 1: Industry
14:05-14:25 Resilient long-range wireless communication by Charalampos Orfanidis, DTU
14:25-14:35 Collaborative applications: What about high payloads? by Cobot Lift
14:35-14:45 Safety of mobile robot arms by Enabled Robotics
14:45-15:05 Model-based safety engineering by Dr. Irfan Sljivo, NASA Ames Research Center


Track 2: Drones
14:05-14:25 Safely flying an unsafe drone over Funen by Kristian Terkildsen, University of Southern Denmark
14:25-14:45 Recent developments in drone safety regulations by Klavs Andersen, MECK Consult
14:45-15:05 Aerial firefighting innovation company Robotto Co by Dimitris Chrysostomou, Aalborg University


Conference schedule (continued)
15:10-15:50 Keynote: Tool support for automation in assurance case development by Ewen Denney, NASA Ames
15:50-16:00 Closure and goodbye

Time and place
September 30th 2020 at 12:30-16:00

Due to COVID-19, the event will be conducted online. A link will be sent out to all attendees prior to the event.



The Innovation Network RoboCluster is funded by the Ministry of Higher Education and Science and the Region of Southern Denmark.

COVR has received funding from the European Union's Horizon 2020 research and innovation programme under grant agreement No. 779966
Har du faglige spørgsmål, så kontakt:
Mads Mathiesen
Forretningsleder