SFRC Consortium - First demonstration project was a success
The SFRC Consortium (steel fiber reinforced concrete) is an innovation consortium which was initiated in January 2010 and is set to run for 3½ years. The consortium consists of 17 partners in total including larger industrial companies, research institutions and engineering consultancy firms of which The Danish Technological Institute is the overall project leader.
The project is funded by the participating partners and the Danish Agency for Science, Technology and Innovation.
The main purpose of the project is to enhance the sustainability of concrete structures by improving working environment, productivity and aesthetics through increased usage of steel fiber reinforced concrete.
This purpose is fulfilled by carrying out the necessary research activities needed to form the basis for the preparation of a pre-normative document containing guidelines for design, production and execution of steel fiber reinforced concrete structures.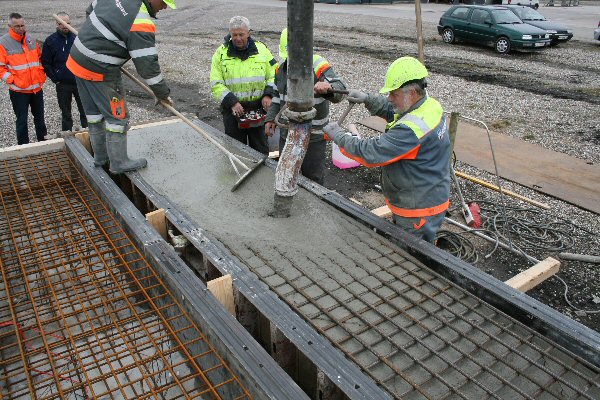 Trial castings were carried out to optimise the flow properties and casting procedure. By using SFRSCC the total amount of steel could be reduced. Right: Beam with 16mm rebars and no fibers. Left: Beam with 10mm rebars and 30kgs RC-80/60 BN steel fibres.
A more specific goal is to develop well documented and applicable solutions for selected load bearing construction parts. In this project these are:
In situ foundations (e.g. slabs)
In situ walls
Prefabricated pre-stressed beams
It is anticipated that a considerable amount of these load bearing construction parts utilizing only traditional reinforcement will be replaced by a steel fiber solution within a 5 year frame from the completion of the project.
The project is divided into 5 work packages:
Simulation of form filling and mechanical properties of steel fibre reinforced self-compacting concrete (SFRSCC)
Material development and testing
Design guide
Execution control and methods
Demonstration and knowledge transfer
The first demonstration project has now been carried out in Aalborg, Denmark (Eternitgrunden). Here the bottom slab for a large rainwater bassin was cast as a slab on grade using SFRSCC. Using steel fibres it was possible to reduce the amount of conventional reinforcement and obtain savings of approximately 30 %.
A total of 380m3 of SFRC was used and the entire casting took 13 hours to complete.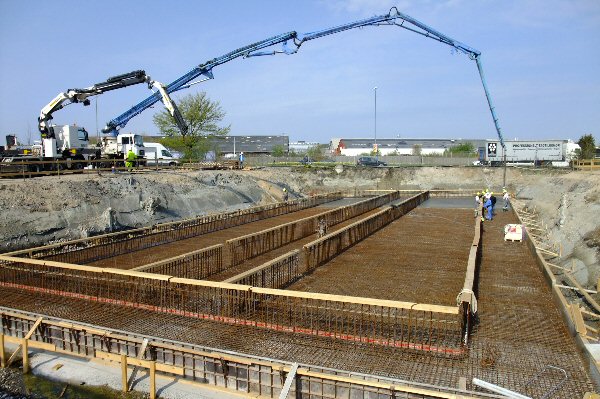 The bassin slab is 900m2 in total and 40cm thick. Reinforcement needed to withstand high water pressure from underneath, due to a high groundwater table. Due to the use of SFRSCC a lot less steel had to be placed manually which in itself is a clear cut bonus for the working environment.

Target slump flow for the mix design was 550mm. Strict control of the concrete rheology and slump flow was kept using the 4C-Rheometer. Slump flow below 500mm made the SFRSCC very difficult to place and slump flows higher than 600mm made the concrete front more difficult to control and increased the risk of segregation.