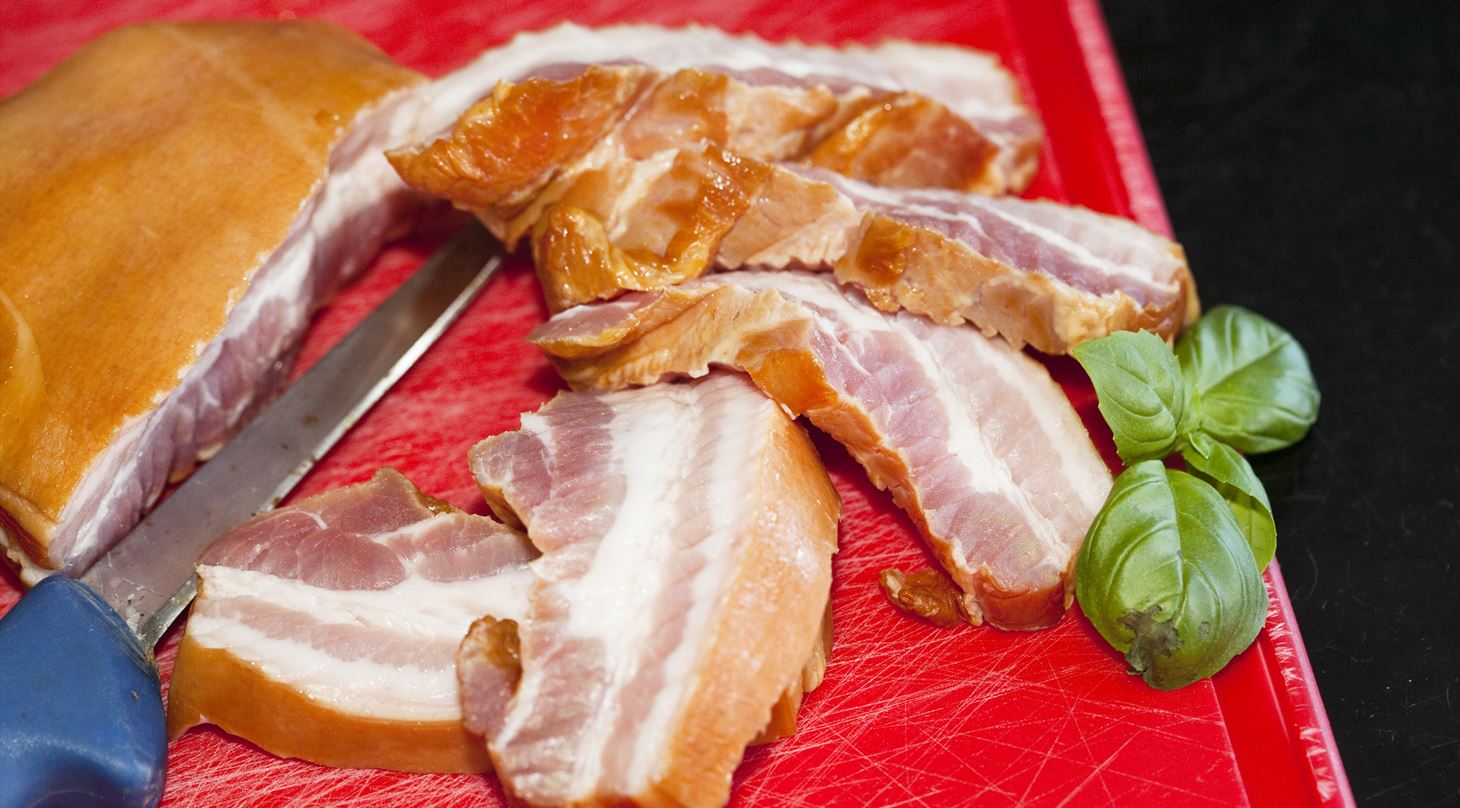 Baconfedt – fra biobrændsel til fødevarer // Baconfat – from biofuel to food
2022 AP3 i projektet Ny procesteknologi i fødevareindustrien
WP3 aims to provide a knowledge base for the use of bacon fats and similar residues rendered during industrial food production, for human consumption and pet food.
The objectives are to document safety and quality by analyzing rendered fats for e.g. carcinogens, oxidative status and taste, and to carry out a cost-benefit analysis to clarify the economic and environmental potential.
Projektstatus 1. kvartal 2022
The most important output is that: Chemical analysis shows no variation in salt and nitrite content of the collected samples of rendered bacon fat. The content of nitrate and lactate was found to variate in the samples.
Furthermore, a suggestion for automatic collection of the rendered fat has been described. The business potential indicates a return on investment of less than 1 year, for sales as biofuel for a cost of 0.36 EUR/kg or even better if in the future the fat is to be sold for human consumption purposed, with a sales price estimated to be 0.60 EUR/kg.
The next major activities in the project are to finish the fatty acid composition and nitrosamines analysis of the rendered fat samples. The content of polycyclic aromatic hydrocarbons are to be analyzed as well, but more sample material is needed for this analysis.
Furthermore, a second advisory board meeting are to be schedule where food products suitable for addition of the rendered fat are to be discussed and prioritized for test.
2021
Projektets formål er at skabe et vidensgrundlag for anvendelsen af baconfedt og lignende restprodukter, der afsmeltes under industriel fødevareproduktion, til konsum og pet food.
Målene er at dokumentere sikkerhed og kvalitet ved analyse af afsmeltet fedt for fx kræftfremkaldende stoffer, oxidativ status og smag, og at foretage en cost-benefit-analyse for afklaring af det økonomiske og miljømæssige potentiale.
Projektstatus 4. kvartal 2021
From a new factory visit we were able to collect new information about the processes and handling of the rendered bacon fat. Small samples were collected for chemical and sensory analysis. The samples that were collected covered the different types of raw materials and frying conditions. The sensory analysis showed very clear and interesting results with an effect of both raw material and frying conditions, and these information's are very helpful in the next project year. Also, data for the business potential and the environmental impact were collected.
The next major activities in the project are to finish the chemical analysis and to select food products that could be suited for the addition of the rendered fat. Also, it is important to collect larger quantities of the rendered fat for these new alternative products.
Projektstatus 3. kvartal 2021
The most important output is that:
A very interesting visit to a bacon production site demonstrated how the factory collects the rendered fats during bacon production. However, during the factory visit, a major change in the fat collection took place, and instead of collecting the rendered fat, all the fat was now sent to the drain to be collected in a major fat trap.
To demonstrate if nitrosamines are present in the rendered fat, the implementation of an analysis method for the measurement of relevant nitrosamines in fat has been initiated.
The next major activities in the project are: A new factory visit is planned where data from the new handling of the rendered bacon fat will be collected. Also, samples of the rendered fat from the production will be collected for further chemical analysis to demonstrate the safety and quality of the rendered fat.
Projektstatus 2. kvartal 2021
The most important output is that: the first advisory board meeting was held.
The use of rendered bacon fat has previously been used in a spread. The rendered fat used in this spread has been tested for various chemical compounds.
Based on the figures provided from the company, the price of high-quality fat paid by biofuel companies is very high and can be difficult to obtain if the fat is used as, for example, the taste ingredient. Therefore, it is important to look at the overall mass balance to see if other parts of the rendered fat can be up-cycled. The relatively small amount of premium fat sold for biofuel indicates that a large amount of fat can potentially be up-cycled.
The next major activities in the project is that: visit a production site and to further investigate the potential for the use of rendered bacon fat and possibly other fat sources.
To analyze different batches of rendered bacon fat for various chemical compounds with respect to safety and quality as well.
Projektstatus 1. kvartal 2021
Det vigtigste nye output er, at der er lavet en videnopsamling med fokus på, om der forekommer uønskede kemiske stoffer i bacon, og om disse kan findes i afsmeltet baconfedt. Det drejer sig specielt om stegemutagener (heterocycliske aromatiske aminer, HCA), N-nitrosaminer, harskningsprodukter, phenoler, furaner og polycycliske aromatiske hydrocarboner (PAH).
Videnopsamlingen belyser, at anvendelse af baconfedt til tilberedning eller som ingrediens potentielt vil kunne medvirke til yderligere mængder af førnævnte stoffer i kosten. Derfor er der behov for at analysere baconfedt for disse stoffer, og specielt vil vi have fokus på phenoler og nitrosaminer. Resten af stofferne vil der evt. være mulighed for at få analyseret hos underleverandører.
Den næste store aktivitet i projektet er at få påbegyndt indkøring af relevante metoder, besøge virksomheder og videre undersøgt potentialet for anvendelse af baconfedt og evt. andre fedtkilder.